We aim to be "the specialist in Chinese-Western combined medical care" in which the Orient and Western medicines are harmonized.
"Journey to the West" says that there was one tall old tree in a Taoist temple in mount Manju (extreme longevity).
Its flowers bloomed after 3,000 yrs and after another 3,000yrs the tree bore fruit .The fruit would then take 3,000 years to become ripe. The fruit was called "Ninjin-ka, (人参果: person fruit)" because each fruit has a pattern like a child whom has arms and legs, and five sense organs. They have miraculous effect.
A person was said to live for 360 years if he smells it and 47,000 years if he eats it.
In China, this rare fruit has been used medically since ancient times for over 2,000 years.
The fruit is Panax Ginseng otherwise known as Korean ginseng.
Its wonderful efficacy is in the fruits more than 5 times than its well known roots and they have the potential to be specific medicines for modern problems, such as anticancer, immunity boosters, antistress, aging prevention and antioxidants.
We are the world's first company developing and introducing Panax Ginseng Fruit Extract.
Establishment
25, February, 1991
Company Name
I.T.B.S Corporation
Capital
10 million yen
President
Tomio Sei
Address of Main Office
Sankyo Central Plaza Bldg. 3F, 5-11-8, Nishinippori, Arakawa-ku, Tokyo, 116-0013, Japan
TEL & FAX
TEL:81-3-3805-1303 FAX:81-3-3805-0130
Bank
Joyo Bank Ina Branch, Bank of Tokyo-Mitsubishi UFJ Marunouchi branch, Johoku Shinkin Bank Nippori-ekimae Branch and Sugamo Shinkin Bank
Branch
Indonesia:Apartman Pesona Bahari Tower JADE Lantai 20-A
JL.Mangga DUA Abdad Jakarta Pusat.10730 INDONESIA
Greetings from the President
The 21st century is the century of senior citizens. The average life span of Japanese men is now 79.94 years and Japanese women 86.41 years old, and tends to increase year by year. The ratio of the current aged population is 14.5%, the number will reach 27% by 2018, and approximately one in four will be a senior citizen, an unprecedented aging society will appear. It is the utmost of problems to decide how people will live a healthy and happy life for the 25 years between 60 and 85 .(QOL = Quality of Life). On this account, thinking of methods to increase health and disease prevention are more important than early detection and early treatment of diseases.
We, I.T.B.S Corporation have been giving advice on health, environment and agriculture since the companies establishment. We have been studying day and night in order to bring about truly valuable products ,and have succeeded in developing a reliable product which is supported by scientific data. It is the health supplement, "Sanjukei" made from the Panax Ginseng Fruit saponin. We keep renewing our determination in order to offer stable, trustworthy, highly profitable business through this product. In addition, we wish to send this valuable product for health and happiness to the people of the world.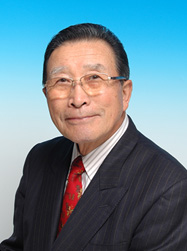 Profile of Tomio Sei, President
Tomio Sei was born in Kumamoto in 1937. He studied American large-scale farming in California, and then went on to the Philippines as a member of the Japan International Cooperation Agency Japan Overseas Cooperation Volunteers. After he returned home, he entered the Mitsubishi Corporation and engaged in agricultural projects in various countries. He established I.T.B.S Corporation after retiring from the Mitsubishi Corporation and commercialized Panax Ginseng Fruit for the first time in Japan. He speaks five languages, Indonesian, Malay, Chinese, Tagalog and English.