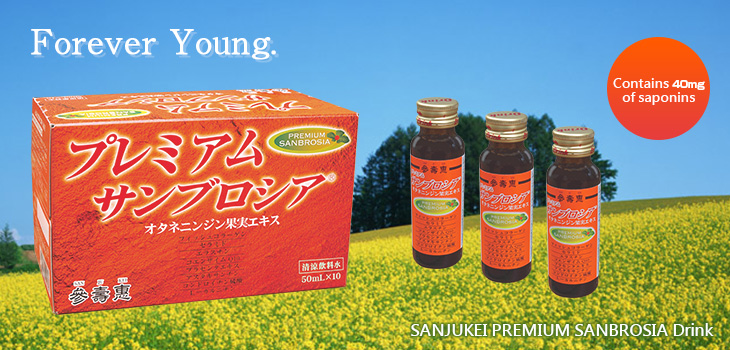 It is a drink that contains Panax Ginseng Fruit Extract Powder, Ceramide which guards against the invasion of bacterium, virus and allergen, elastin which increases tension and elasticity, collagen which promotes skin moisture and reproduces the true skin, placenta extract for youthfulness and beauty, chondroitin, a cartilage component, coenzyme Q10 for an energetic life and asta xanthine for maintaining healthy living.
Content Weight
50ml X 10 bottles (For about 10 days)
How to drink
Please drink 1 bottle a day.
Ingredients
Sugar, Isomerization liquid sugar, Fish collagen peptide, Erythritol, Shark cartilage extraction (Chondroitin sulfate component), Dextrin, Panax Ginseng Fruit Extract Powder, Green tea extract, Guarana extract, Elastin, Placenta extract powder, L-carnitine, Whole rice extract (contains ceramide), Coenzyme Q10/Acidulant (Citric acid, Malic acid), Spices, Caramel, Niacin, Preservation charges (Na benzoate), Glycerin, Artificial sweetner (Sucralose), Emulsifier, Vitamin B1, Vitamin B6, Alcohol, Vitamin B2, Hematococcus algae colour (contains asta xanthine), Vitamin E

Nutrition Facts
(One bottle)
Energy 27.5kcal / Protein 2.3g / Fat 0.0g / Carbohydrates 4.6g / Salt equivalent 0.02g
*Do not take it if you are pregnant, lactating or young.
*If you are undergoing treatment using medication, or if you have high blood pressure or renal disease,
give preference to your treatment, and consume after consulting a specialist such as your doctor or pharmacist.
*Stop use and consult a physician if you feel any abnormality or negative change in physical condition.
*Store out of the reach of young children, and please finish the bottle soon after the package is opened.
*40mg of saponin is included per bottle.