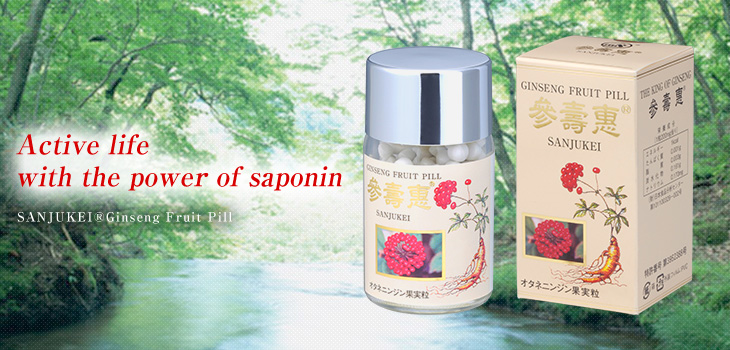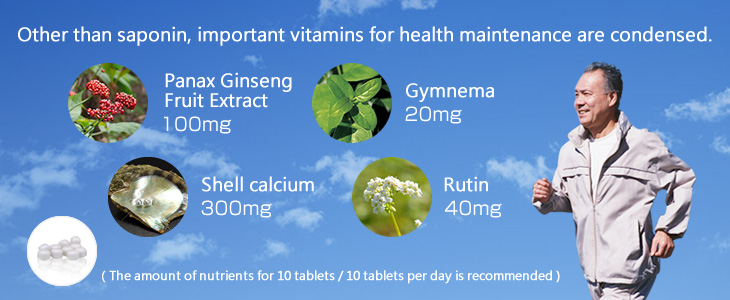 This is one of the popular staple products of SANJUKEI, Panax Ginseng Fruit Extract and other ingredients, such as calcium, which is commonly lacking in elderly people and rutin, which helps you to maintain youthfulness, in good balance. It can support you to have an active lifestyle.
Content Weight
60g(200mg X 300 Tablets /For about 30 days)
Recommended Consumption Per Day
Please swallow10~15 tablets a day with water without chewing.
Iingredients
Panax Ginseng Fruit Extract Powder, Shell calcium, Green tea extract, Gymnema extract, Rutin (a Japanese pagoda tree extraction)
Nutrition Facts
(200mg per capsule)
Energy 1kcal / Protein 0.001g / Fat 0.003g / Carbohydrates 0.161g / Sodium 0.170mg
*Do not take it if you are pregnant, lactating or young.
*If you are undergoing treatment using medication, or if you have high blood pressure or renal disease,
give preference to your treatment, and consume after consulting a specialist such as your doctor or pharmacist.
*Stop use and consult a physician if you feel any abnormality or negative change in physical condition.
*Store out of the reach of children, and please finish the bottle soon after the package is opened.
*100mg of bittersweet ingredient from red fruits of Asian ginseng is in the 10 tablets.