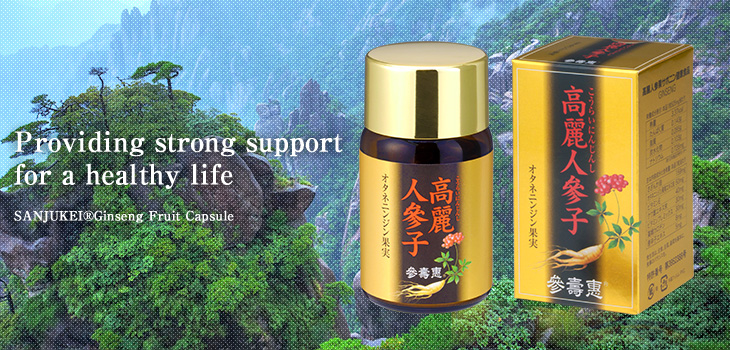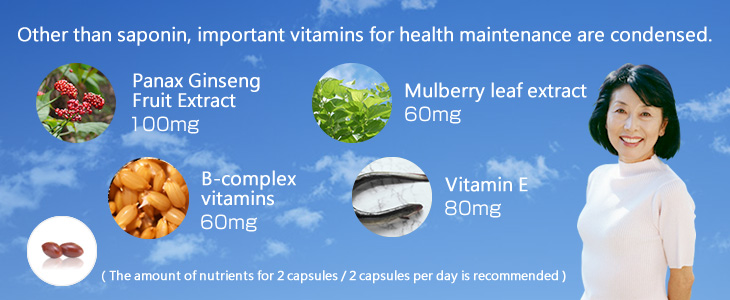 Increased dosage of Panax Ginseng Fruit Extact and pre-blended mixture of vitamins(vitamin group) which are necessary to sustain human life are added. Panax Ginseng Fruit Capsule is produced with careful consideration of the balance among Panax Ginseng Fruit Extract and other nutrients. Please try it for maintenance and an increase of your health.
Content Weight
31.5g (525mg X 60 Capsules /For about 30 days)
Recommended Consumption Per Day
Please swallow 2 capsules a day with water without chewing.
Iingredients
Camellia Oil,Panax Ginseng Fruit Extract Powder, Vitamin E(d-α- tocopherol / Sunflower oil), Mulberry leaf extract powder, Pre-blended mixture of vitamins (vitamin C, Nicotinic acid amide, Pantothenic acid calcium, Vitamin B1, Vitamin B2, Vitamin B6, Vitamin B12), Alga carotene, Red pepper extract, Gelatine, Glycerin, Beeswax
Nutrition Facts
(525mg per capsule)
Energy 3.37kcal / Protein 0.143g / Fat 0.265g / Carbohydrates 0.103g / Sodium 0.726mg / Vitamin E 40mg
*Do not take it if you are pregnant, lactating or young.
*If you are undergoing treatment using medication, or if you have high blood pressure or renal disease,
give preference to your treatment, and consume after consulting a specialist such as your doctor or pharmacist.
*Stop use and consult a physician if you feel any abnormality or negative change in physical condition.
*Store out of the reach of young children, and please finish the bottle soon after the package is opened.
*50mg of saponin is included per capsule.