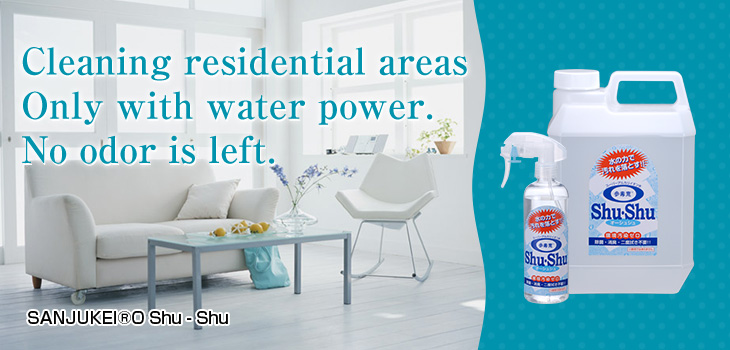 Features of O Shu - Shu
O Shu - Shu is a sanitation and cleansing agent of electrolyzed water for residential areas.
Electrolyzed water in the product has a stronger penetration than normal water and sinks deep into dirt and lifts it out.
Because it does not contain chemicals and organic substances, such as solvents and surfactants, it does not pollute the environment.
In addition, because it is not a detergent, it is not necessary to rinse off the product! Therefore you can save water and workload.
Description of Item
Residential cleaning agent
Content Weight
2 Litre (Alkaline cleaning water)
*The bottle for subdivisions is empty.
Ingredients
Electrolysis ion water, Pure water
Liquid
Alkaline pH12.5
How to Use
Spray an appropriate amount and after dirt lifts up, wipe it off with a cloth.
For cleaning electric appliances, use a soft cloth soaked with the product.
Where to use
[Kitchen]
Washing and sanitation of cutting boards and kitchen utensils.
*For sanitation of cutting boards, spray the product directly on the board and rinse away with water after leaving for 1 minute.
*Oily dirt around cookers and ventilation fans.
Apply the product on oily dirt and wash or wipe of after leaving for a while.
*You can use it inside the refrigerator and the oven range where you may hesitate to use cleaning agents.

[Living Room]
*Washing and sanitizing of tables.
*Washing and deodorizing of wall paper where nicotine from cigarettes is trapped.
*Wipe off dirt with a cloth soaked with O Shu -Shu.
*Cleaning of windows.
*Cleaning of furniture and sofas.

[Bath and Toilet]
*Cleaning of the wash-basin.
*Cleaning of the bath stool.
*Cleaning of the bathtub (It is not suitable for removal of mold, use detergent)
*Washing and sanitizing of the toilet seat

[Others]
*Stain removal of clothes and carpets.
*Sanitizing of toys.
*Wiping PC screens.

Precautions for Use
*Use only for intended purpose.
*Do not drink.
*Carefully open the cap, or the liquid may squirt out.
*If the product gets into your eyes, immediately rinse them well under running water without rubbing. If any reaction occurs, seek immediate medical attention.
*If the product irritates the skin, wash well under running water.
*Use rubber gloves if your skin is sensitive or when using the product for extended periods.
*If you swallowed the product accidentally, don't try to vomit, rinse out mouth and drink water immediately.
*Store out of the reach of young children.
*Control the dilution ratio according to condition of dirt.
*Things which cannot drain off water or water can soak it up, may be stained by the product. Test it on less visible areas beforehand.
*Rinse it well with water after using the product on tableware and kitchen utensils.
*When a white powder remains on glass surfaces after using the product, wipe the powder off with a dry cloth.
*Do not mix the product with any cleaning agents.
*When move the product to a spray bottle or other containers, never use the following materials ( Materials which are vulnerable to alkali, such as aluminum and tin plate.)

Things unfit to use the product on
*Things which can't be wiped with water, such as tatami mats, unvarnished wood, lacquerware, leather goods, silk goods, shag carpets, stuffed toys, soot stains on wall cloth, building stones such as marble.
*Things which might be lightened or darkened by the product such as aluminum products, copper products, brassware and tin products.
*Precious metal and jewelry may be transubstantiated by the product.
*Coated things which may exfoliate, such as lacquerware, varnish coated products, fluorine coated furniture, glass lenses, wax processed flooring, gold leaf, and painted surfaces of cars.

Notes
You can purchase a small empty bottle for 220 yen (including tax) at your pleasure.
*Do not drink. Please Use only for intended purpose. Rinse well with water after using the product on tableware.
Sanitization action : Antibacterial power test of the alkali cleaning water (unit:cfu/ml)
Bacteria
to be tested
Test
plot
Initial
number
of bacteria
Average
number
after
30 seconds
Average
number
after
5 minutes
Average
number
after
15 minutes
Escherichia coli
Tested object
8.8 X 10^5
0
0
0
Control
8.8 X 10^5
5.2 X 10^5
4.7 X 10^5
4.9 X 10^5
Vibrio
parahaemolyticus
Tested object
1.2 X 10^5
0
0
0
Control
1.2 X 10^5
1.1 X 10^5
9.5 X 10^4
9.4 X 10^4
Salmonella
bacterium
Tested object
4.9 X 10^5
0
0
0
Control
4.9 X 10^5
5.6 X 10^5
5.7 X 10^5
5.7 X 10^5
Enterohemorrhagic
Escherichia
coli O157
Tested object
5.0 X 10^5
0
0
0
Control
5.0 X 10^5
4.2 X 10^5
4.5 X 10^5
3.9 X 10^5
*The product cannot sanitize all kinds of bacteria. (It doesn't have effect on staphylococcus aureus.)